- - - - - - - - - - - - - - - - - - - - - - - - - - - - - - - - - - - - - - - - - - - - - - - - - - - - - - - -
رنگ موی سال 2013
Reviewed by
Saeed13
on
Mar 15
Rating:
Hairstyles 2013 – ۲۰۱۳ Haircut Trends
For all you Fashion Conscious,Forward Thinking Women out there !  Here is the low down on what is going to be happening on the Hairstyle Front for 2013.   There are two very important considerations that are a constant in considering your new look for the upcoming year, length and color !  One should consider lifestyle and personal taste as well, along with shape of face ,and personality etc.
Old Hollywood Glamor
Trends for 2013 are taking cues from the Fashion Runways of New York and Celebs on the Red Carpet,as well as bringing back many Vintage looks. There will be new twists on Classic styles. Mixing everything from styles which have the feel of the early to mid nineteenth century, such as the Wrap Around Braid;to the Bouffant of the 1960s . A good example of these mixtures is the return of the Golden Age of Old Hollywood  in the form of Side Parts and Finger Waves ! Reminiscent of Hollywood Pin-up Girls  of the 40s,such as Betty Grable and Jayne Mansfield. These hairstyles are rich with Glamor and Romance, finger waves that were once very stiff and close to the head are now much more relaxed, giving them a softer appearance and are at  times tousled and defined with product in order to bring attention to the grace of the lines. For example, when paired with a Classic Chignon, leaving a wide section in front which is finger waved loosely creating soft lines and pulled back into the chignon with a Glamorous pin or left loose and  "mussed" a bit then defined with product for a hint of Rebellion.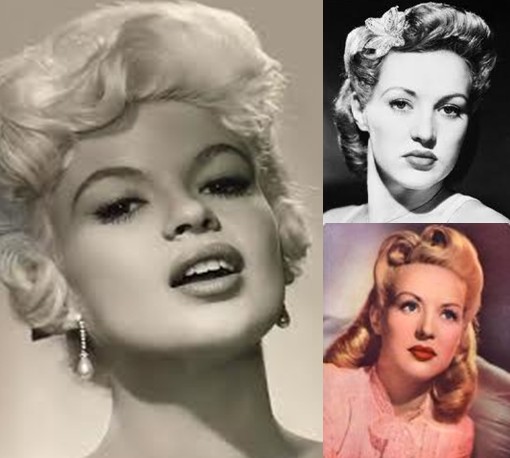 Speaking of Chignons, Up-dos,will be Hot for the new Season !  No longer severe, these up-dos vary widely however, the constant seems to be Volume,Volume, Volume !  I have seen lots of Side Parts, Braids, Finger Waves and Tousled Curl.  There is also a great deal of interest created in the up-do with the use of Chignons, French Twists and Rolls.  These are seen both in their classic forms and with new,fresh twists.  Such as in the case of the French Twist, by using a side part and directing the hair over to the side from the front and rolling back toward the crown which places the height or point of interest more to the side and just in front of the crown thus giving this Classic look a Modern Edge.
۲۰۱۳ hairstyle Trends: Braids
Braids will be making a strong showing for 2013, but not your Mother's braid..these braids are very unique when used in up-dos or loosely pulled over a shoulder after the hair has been given lots and lots of volume for a full wavy look and then adorned with ribbon throughout the braid for a very feminine romantic look.    French Braids  will still be around in the classic sense, but will also be seen sideways across the back of the head for instance, allowing strands to fall out of the braid and down  the back for a flowing look.  The hair that was left to fall free could be left straight and soft or in a fluff of romantic curl.  One could even try their hand at the large loose finger waves that will be so popular for 2013.  Braids both french and traditional will also be seen in multiples from front to nape a great deal for 2013.  The multiple braids  can be done in a classic french braid,or herringbone.  One might then choose  to crimp or curl the loose hair that remains loose at the nape of the neck. Here is a gallery of braided hairstyles, enjoy.
Day into Night..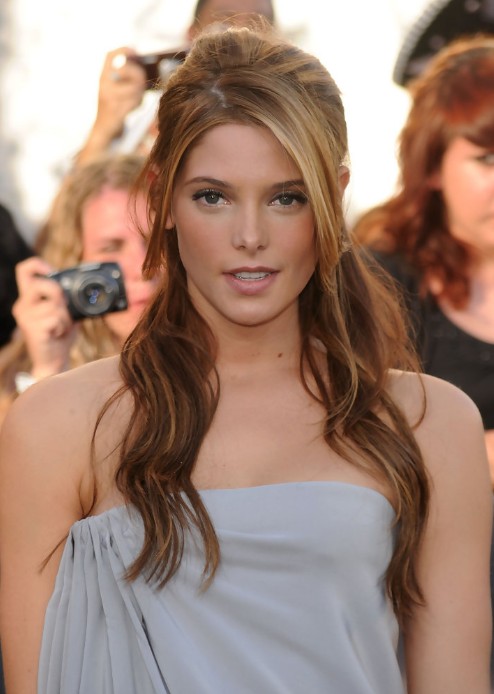 Speaking of the a fore mentioned braids and rolls these come in handy for another up and coming trend; The Half Up-Half Down that brings to mind the days of  Sex Kittens such as Brigitte Bardot, the look in which the Bouffant also comes back on the scene.  This allows for a partial up-do while still allowing for long flowing hair as well.  If the bouffant isn't your thing, this sexy look can also be achieved using various braiding and/or rolling techniques.   Some ideas might be a large finger wave in front and secured high in the back, allowing hair to fall into graceful curls.  Or maybe a wide side bang pulled back into a roll and secured with a pretty comb or barrette, letting ends trail down the back in an alluring cascade of ringlets.   This will prove to be one of the season's most versatile styles for both day and evening.  I saw side parts,loopy curls, crimping, and finger waves as well as smooth and sleek here, as well as with so many of the new looks for 2013. Find more elegant updos here.
  Bob or Mock Bob ?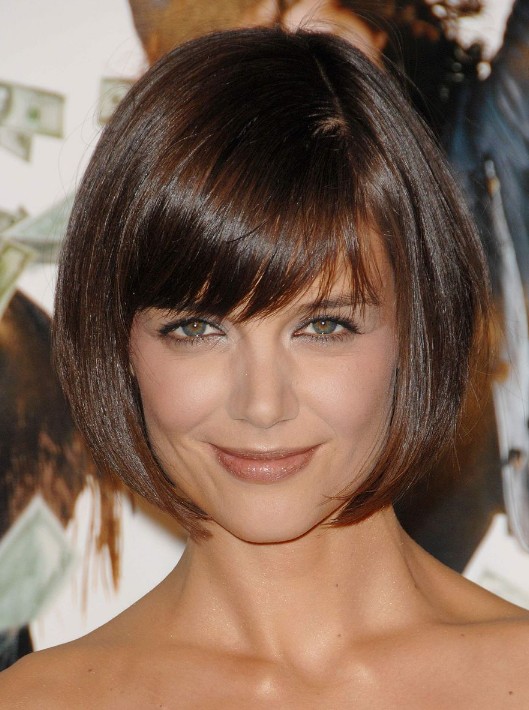 Another classic which will still be popular is the Bob,seen in many different lengths and styles.  From sleek and smooth to tousled,loopy curls and once again we will be seeing the Bob sporting a Side Part as well.  This classic style will be seen in all sorts of different looks,from sleek to curly.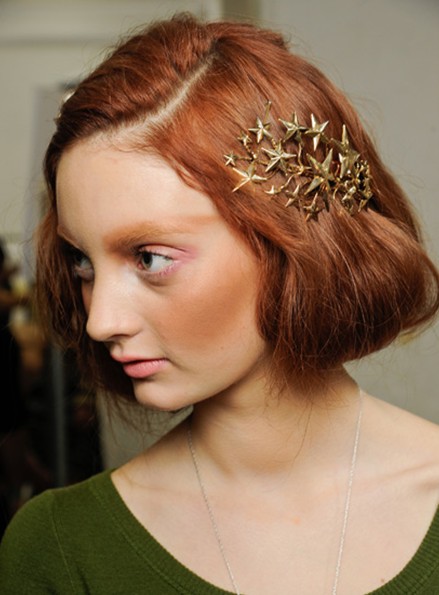 Don't want to cut your hair in a Bob,but you like the look ?  Well you are in luck,because another trendy look will be the Mock Bob.  A very simple look to achieve, all one has to do is pin your lovely locks under at the length you want your Bob to be, for very long hair this would be better described as a "loop".  The Mock Bob can be full and curly or smooth and silky and everything in between.  One variation of this style applies gel to the sides which are combed close to the head and then secured under the Bob or "Loop." A lot bob hairstyles for you to choose from here.
Want your new "Do" to Sparkle ?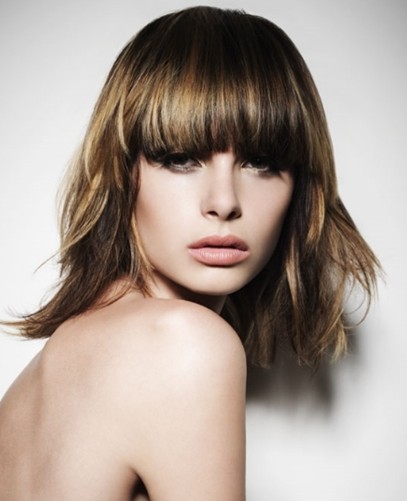 We will still be seeing the Bang as well but aside from the usual soft fringe of a bang,we will also be seeing a very sharply defined, blunt bang.  The 2013 Bang seems to be one extreme or the other,either making a statement with the blunt bang or softly whispering with the layered and/or textured bang.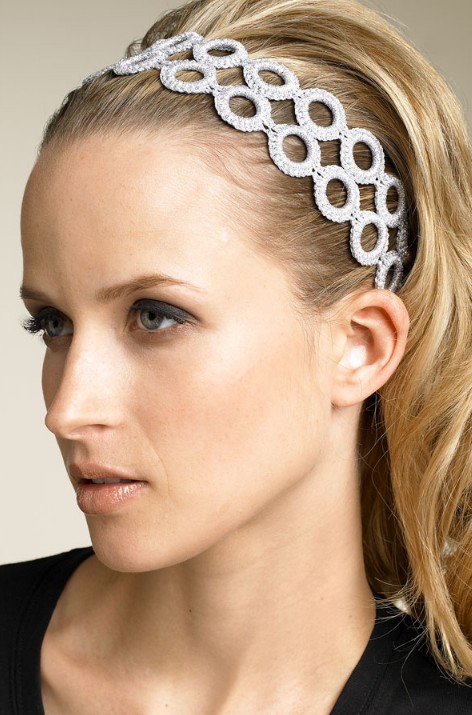 Then you are in luck as there will be lots of Headbands, Combs,Pins and Barretts in 2013.  They have been seen in all shapes and sizes,from Large and Chunky to Small and Petite.  Glittery and Flashy to Prim and Pastel.  Hair Jewelry is most assuredly making a come back in the new season.
Multidimensional Color ~Exciting !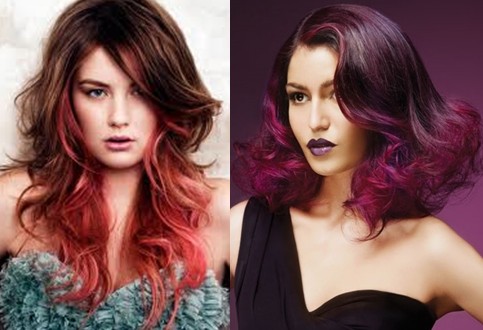 Well onward and upward Ladies, this brings us to the 2013 Color Trends ! Everything we have been seeing points to lots of Multidimensional Color.  When choosing your new color, think rich and vibrant.  No more understated color,even pale blondes are sporting bold chunks of "look at me" colors in pinks,blues,jades and even purples !  Even blonde on red is seen quite often in 2013.Look at it like this, there are colors such as red for an example,that sometimes enter a room quietly whispering,  "Hello, how do you do ?" and then there are others that enter screamin' "I'm Here ! Start the Party Now !"   Want something more understated ?  You can always go with Luscious, rich color in a variety of luminous shades with multidimensional highlights to perfectly accentuate the color you choose.  No need to make loud statements if that is not you.  You can choose to be more refined and sophisticated, even Glamorous in your color choices.  So in other words you can either be refined, charming and sophisticated  or you can choose to make a bold,fiery even sultrystatement with your look,the choice is yours.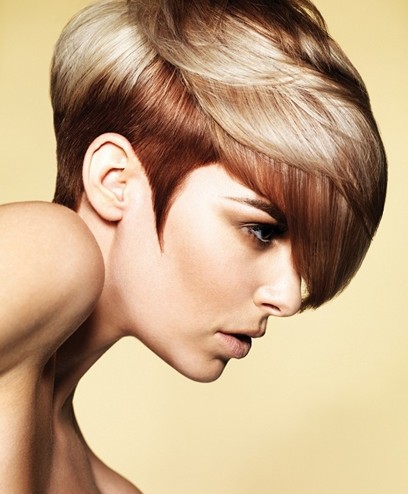 Multidimensionals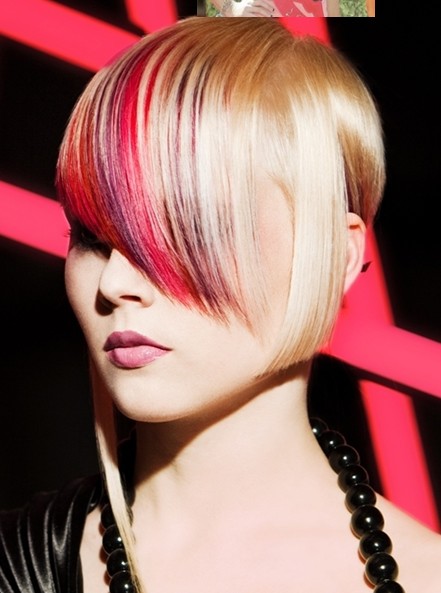 Multidimensional Color will be available in every hue imaginable,  as always there are Brunettes, Blonds, Browns,Auburns and True Reds. The change will come in the form of adding two or more additional colors to your "base" color,in the form of highlights.  This in turn makes for an overall look that has a tremendous amount of depth.  Movement brings with it the surprise of many changes in the look of your color as the sun or club lights hit your beautiful tresses, revealing glimmering highlights.  ۲۰۱۳ will also see Gothic Black quite often as it will be one of the more "hip" trends of the season.  Making a showing for another season are the pastel and jewel colors of the current season.  Pinks,Blues,Greens, Reds,Yellows and Purples etc.  Basically if it is in the rainbow or even in your head you can put it on your head.
Brunettes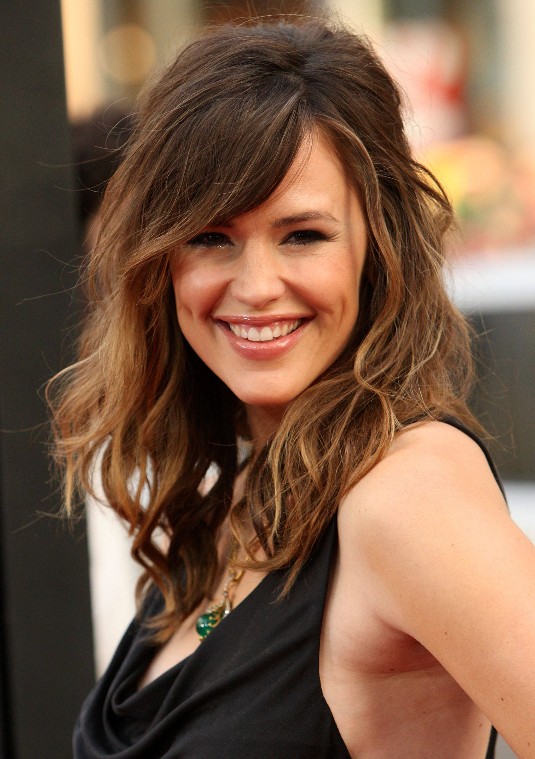 Brunettes will see softly glowing golden-blond and warm auburn highlights.  These gorgeous rich brown tones with their subtle highlights are wonderful for olive and dark skin tones.
Blondes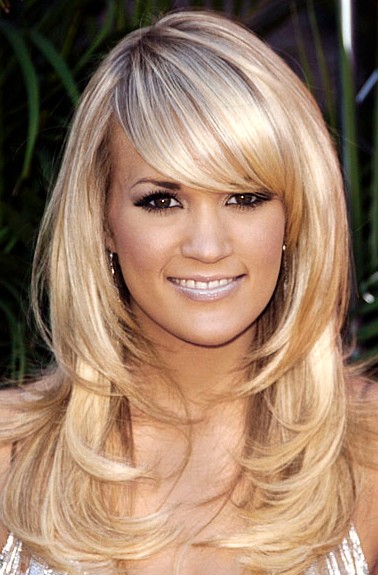 Blondes will be leaning away from the harsh blondes we have sometimes seen in years past.  ۲۰۱۳ will be about the understated blonde tones, there are more Ash Blondes, with auburn and/or light brown highlights.  we have also seen golden-blond highlights glittering on natural blond hair,as well as very muted pastel pinks or blues on an ice blond.
Browns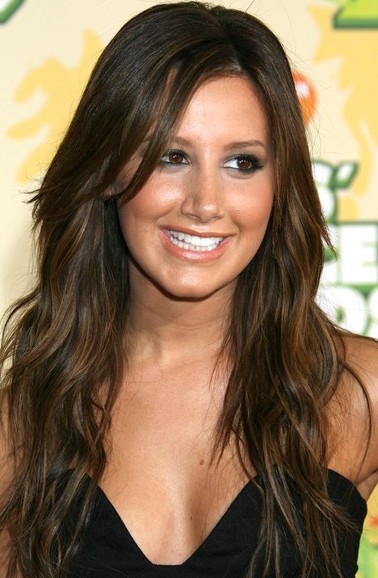 Browns are rich like fine Mahogany Wood with lush chocolate browns highlighted with deep reds and deep golden blondes.  Or for a more revved up look on that same dark brown, a vibrant red or burgundy highlight.  The brown tones lend themselves to quite a lot of choices as well.  Just talk with your hairstylist about all of the possibilities once your skin tone,lifestyle and tastes etc. are taken into account.
Reds and Auburns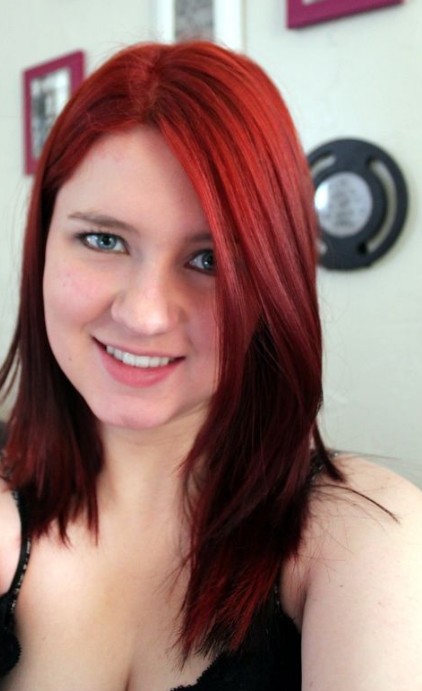 Reds and Auburns as always take the center stage for excitement and attitude in 2013 !  Of course while being so exciting, it is also the hardest to maintain.  Reds  tend to fade quickly, so make doubly sure you get your hairstylist's advice on products to keep your red blazing as long as possible.  Reds and
Auburns seem to be one extreme or the other for the 2013 season.  Either deep,luxurious Irish Red with light catching golden-blond and copper highlights for example;or Cherry Red with Gothic black highlights chunked in strategically around the face and crown.  Major extremes to choose from here, and a mouth dropping array of choices in between.  A note about the true reds in particular, skin tone is very important in order to wear this color successfully.  If you have pink or red undertones this could be the color for you !  Be sure and consult with your hairstylist for his or her opinion on this or any other color.
Gothic Black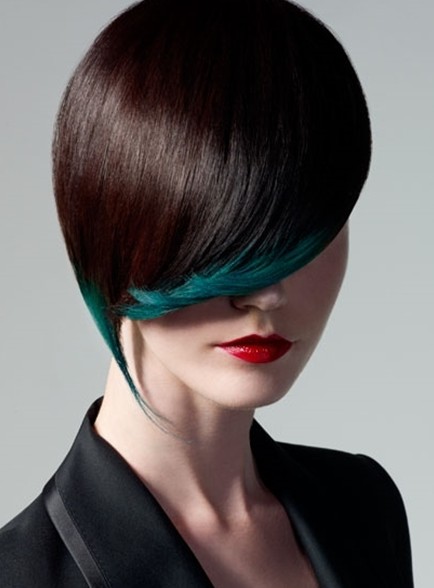 Gothic Black and a Rainbow of Colors- So you're a Wild Child right ?!  Just kidding, you don't have to be a wild child…however if you are, you are gonna have a ball with these choices !  Bottom line here, "If you can dream it,you can be it" Between these choices in color and the broad range of style for 2013, you could pretty much dream up anything using some of the up and coming style and color ideas and "Poof !" you are no longer a trend follower but a trend setter !  Don't be afraid to experiment with the myriad of jewel and pastel colors that are going to be available. They can be added to virtually any "base" color you choose and of course they look absolutely awesome on Gothic Black !  A short haircut that is Gothic black with just a bit of teal or jade along the edge looks killer.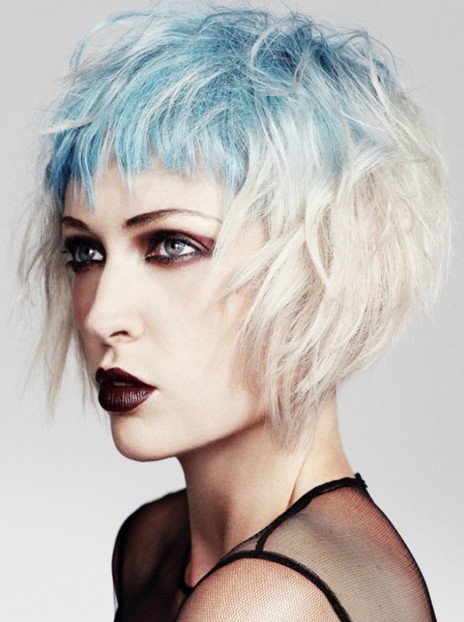 A long hairstyle on which naturally dark hair has highlights done in purple is just sexy, nothing else to say. 
The Colors of the Rainbow
Blue on the crown of a short to medium style done in an icy blond is too tough for words.  So put your thinking caps on and really have fun with these looks, you are only limited by your imagination.
So  Ladies, the Long and the Short of it for 2013 is a general look of Romance,Glamor and just a hint of Rebellion.  Classic looks with new twists and basically all things pretty to add the finishing touch to your new creation.  Remember, the sky is the limit and above all else:             
Just be the Beautiful,Unique Woman only You can be
=======================
Here are some great celebrity ombre hair styles, if you are going to find the latest ombre hair trends and want to know what ombre hair color is hot, check out this gallery.
Ombre is a technique where the hair is darker at the roots, and lighter at the ends.
A lot of the time this occurs naturally after someone has gone too long between touch-ups, but it also happens purposefully these days, since it became a fashion statement. Ombre is possible on any color of hair, and is very easy to do yourself on natural or color-treated hair. Red ombre hair is one of popular color for ombre these days.
Here are some picutres of ombre hair, hope you love these styles.
۲۰۱۲ – ۲۰۱۳ Ombre Hair Trends:Ashley Tisdale Long Hair Style for Women
Ombre Hair Trends: Whitney Port Ombre Hair
Lauren Conrad with a sleek ponytail
۲۰۱۲ – ۲۰۱۳ Ombre Hair Color Ideas: Short Ombre Hair
Celebrity Demi Lovato Ombre Hair
۲۰۱۲ – ۲۰۱۳  Ombre Hair Ideas: Lauren Conrad Ombre Hair
Ombre Hair Color Ideas for 2013
Olivia Wilde Long Sleek Hairstyle with Blunt Bangs
Sexy ombre hair from Lily Aldridge
Ombre Hair Trend: Lauren Conrad Ombre Hair
Jennifer Lopez Long Sleek Hairstyle
Sexy Long Wavy Ombre Hair
Lauren Conrad Sexy Long Sleek Hairstyle
Rachel Bilson Ombre Hair
Celebrity Ombre Hair Color Ideas
Ombre Hair Trends
۲۰۱۲ – ۲۰۱۳ Ombre Hair Trends: Drew Barrymore Long Ombre Hair
Rachel Bilson long wavy hair style
۲۰۱۲ – ۲۰۱۳ Ombre Hair Color Ideas: Celebrity Ashley Tisdale Ombre Hair Color
۲۰۱۲ – ۲۰۱۳ Ombre Hair Trends: Sandra Bullock Ombre Hair
Kristen Wiig ombre hair
Kate Beckinsale Ombre Hair
Shoulder Length Ombre Hair
========================
=========================
Being able to recognize these hair styles in a huge variety of styles, we can see that they are very versatile. Proposals for 2013 hairstyles fit almost any garment.


For women with curly hair, we advise you to experiment with braids and twists. For women with straight, slicked back look like the image above.
Each of them is for those who want to immediately add elegance, sophistication and original appearance of hair, regardless of their length. All such as will be seen in the pictures, show the simplicity and elegance of style.
=====================
Celebrity Ombre Hair Trends – Latest Ombre Hair Color Ideas
Ashley Tisdale Long Hair Style for Women
Celebrity Ashley Tisdale Ombre Hair Color
Sexy ombre hair from Lily Aldridge
Celebrity Demi Lovato Ombre Hair
Kate Beckinsale Ombre Hair
Kristen Wiig ombre hair
Rachel Bilson Ombre Hair
Lauren Conrad Sexy Long Sleek Hairstyle
Sandra Bullock Ombre Hair
Rachel Bilson long wavy hair style
Lily Aldridge sexy long ombre hair
Sexy long ombre hair
Shoulder Length Ombre Hair
Olivia Wilde Long Sleek Hairstyle with Blunt Bangs
Short Ombre Hair
Ombre Hair Color Ideas for 2013
Drew Barrymore Long Ombre Hair
Sexy Long Wavy Ombre Hair
Jennifer Lopez Long Sleek Hairstyle
Ombre Hair Trends
Celebrity Ombre Hair Color Ideas
Ombre Hair Trend: Lauren Conrad Ombre Hair
Ombre Hair Ideas: Lauren Conrad Ombre Hair
Lauren Conrad with a sleek ponytail
Ombre Hair Trends: Whitney Port Ombre Hair
======================

Schwarzkopf Essential Hair Trends 2013 Due to the Reputation of Schwarzkopf Company

Reviewed on Jun 6, 2012 in Women Hairstyles | 0 comments
As we go into the details of the hair trends in 2013, Schwarzkopf essential hair trends 2013 may be one with the most highlights amongst all new hairstyles trend. This can be true since Schwarzkopf itself has been widely known as one of the most prominent hair care companies in the world. Thus, it is justifiable to say that all kinds of hairstyle that involve Schwarzkopf usually rule.
Schwarzkopf Essential Hair Trends 2013 in Relation to the Hair Services in Schwarzkopf
The reason for Schwarzkopf essential hair trends 2013 becoming one of the greatest hair trends in the year cannot be separated that hair is highly valued in the company. First of all, Schwarzkopf offers to its customers a service that involves hair styling. Thus, we can have our hair styled in any kinds of beautiful styles in Schwarzkopf. In addition, since styles and trends also involve color, Schwarzkopf also offers a service of hair coloring, in which the right selection of color can greatly support a hairstyle.
In addition to the hair styling and hair coloring, Schwarzkopf also offers hair care services. For instance, the hair care services can involve shampooing, as well as conditioning. Moreover, blow drying, along with smoothing are also parts of the hair care services. The service also includes protecting and pampering the hair. What's more important is the fact that we can also have our hair repaired since the company also offers a hair repair service. The hair repair can include repairing stressed hair, as well as treatment for thin hair. Thus, the services provided in the company have a significant influence on Schwarzkopf essential hair trends 2013.
The Secret behind Schwarzkopf Essential Hair Trends 2013
Apart from the fact that the services available in the company have great influences on the Schwarzkopf hair trends, the services are not exactly the only aspect that determines Schwarzkopf Essential Hair Trends 2013. In fact, we can get more than services in Schwarzkopf.
In all circumstances, aside from providing many kinds of hair treatment service, Schwarzkopf also gives customers tips and tricks, as well as some advices and solutions about hair problems. The company also reveals the secret behind beautiful hair to its customers. This may be one of the reasons for the fact that Schwarzkopf essential hair trends 2011 and Schwarzkopf essential hair trends 2012 also gained a lot of success. In any way, Schwarzkopf essential hair trends 2013 have many things to do with the excellent services provided by the company, Schwarzkopf.
Schwarzkopf Hair Trends Gallery
Schwarzkopf Advices Video Channel
==========================
======================
New Most Popular Hair Color Trends 2013
Currently, what is your hair color? And what hair color you like best? Maybe it's time to change my hair color and hair color would want to know what will be popular in the new year, then you have come to the right place! 2013 hottest trends in hair color tells Angie haircolorist here, plus some great tips on the right shade you are not her strong increases a woman's face and hair textures for you.The will help you find the perfect shade planted.
Comes a ton of hot brunette is one of the best hair color. There are many different shades of brown hair color hair color.This which is also very popular, but you need to take care of as quickly disappear. There are special shampoos and conditioners for color-treated hair. It takes a long time to color reproduction, it is recommended to use them. Brunettes end or they go a little lighter overall color continues to ease in the warmer months. So many of my clients to bring their hair inspiration Minka Kelly pictures. Her skin looks great, has a nice warm golden color.
Ombre hair. Ombre hair color has been popping up on the red carpet for more than a year and have the choice of an excellent color for brunettes. As you can see many celebrities Ombre hair Fine hair dye, use the search form or click here for celebrities Ombre hair. Towards the end of deep and light slowly fading ombre is a color that starts at the root. This gives you that perfect look beachy Sun kissed!
If you really want to go with the colors of the hair, then why not try something funky? Such pink, orange, Electric Blue, or you can go with warm colors such as acid green. Moreover, we also consider a new, is completely black hair coloring. You do not want to go all the way, then for a modern look, purple, consisting of vivid colors such as pink or red hair, consider getting a few lines.
Tags: Latest Most Popular Hair Color Trends 2012
Posted in New Hairstyles
==========================
Top Hair Color Ideas 2013 For Women
Posted by admin at 27 September 2012
Category: Women's Hairstyles, Women's Long Hairstyles, Women's Medium Hairstyles, Women's Short Hairstyles
======================
Bright Ideas Hair Color 2013
September 25, 2012 By fashion2012 Leave a Comment
Is injected into your look neat environment with the following brilliant ideas hair color for2013. highlights a colorful hairstyle that never go out of style, therefore consider them as the perfect option to go glam for next year . Consider